Regular price
Sale price
£7.00 GBP
Unit price
per
Sale
Sold out
If halftime oranges are designed to revive kids, then this candle is more like a mimosa for grown-ups who have a relaxing long weekend on the horizon. The combination of earthy sandalwood with a fresh citrus kick creates a mellow and dreamy scent that's decidedly mature.
Not everyone is into commitment, which is why we made these candles. Created for the minimalists and the fragrance fickle, our 50mL and 100mL travel tins are the perfect way to trial a new fragrance. They're mini in size, but not in scent — you can expect them to burn strong for 20 to 30 hours.
Fun fact: Soot was the original contouring makeup, used by actors back in the 16th century. Now that we've got Sephora for that, there's no need for sooty residue in your life. That's why we use sustainable slow-burning soy wax — not only will your Lucian candle last longer than an Elizabethan stage production, it's also soot-free. 
Some tips to make the most of your candle:
Real quick, trim your wick!

 

Listen, we know the extra three seconds it takes to find scissors is annoying, but you'll thank us later. Studies have shown trimming increases the lifespan of your candle by up to 15%. About 2mm to 5mm should do the trick. 
Settle in and enjoy.

 To avoid the "tunnel effect," the first time you light your candle burn it for at least three hours, until the wax is melted to the edges, or until you've binge-watched three episodes of 

MAFS.

 

(We won't tell.) 
Save your breath.

 

To reduce smoke, don't blow out your candle. Instead, use a spoon (or a wick dipper, if you're fancy like that) to submerge the wick into the wax pool.
Share
View full details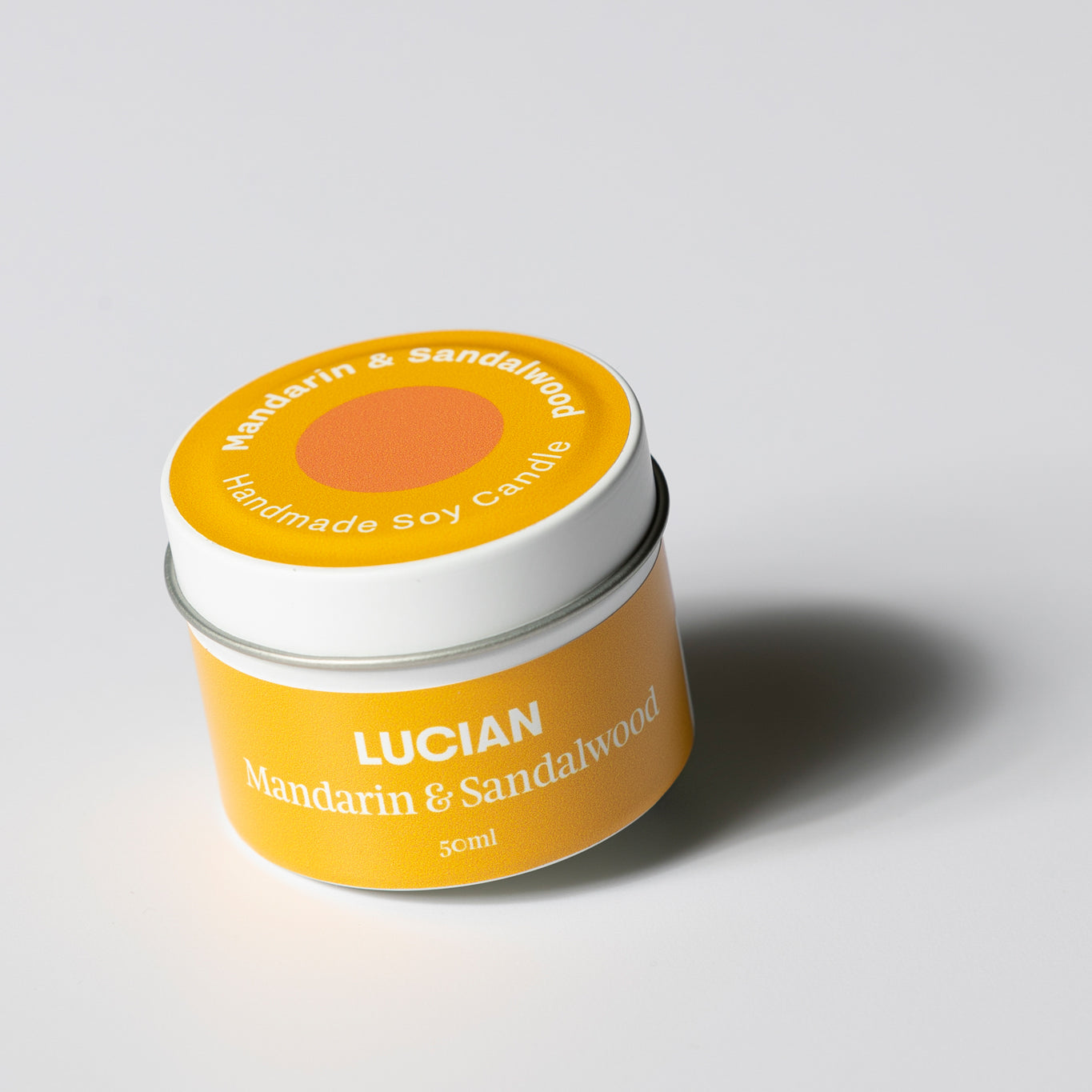 Just received my new order of these - favourite one so far!
Absolutely love the beautifully made candles. They arrived swiftly and I adore the subtle and sweet scent.
I love the Mandarin & Sandalwood
After discovering this lovely company at Pop Canberra I fell in love and had to order the 12-pack! I love the Mandarin & Sandalwood. Also great for travel: I gifted some to my dad who often has to stay in smoking hotel rooms. The tins make them easy to chuck in your luggage and bring a lovely scent with you on your travels.